Spread the Word
You'd like to build cool things. You'd like to be impactful. You'd like to feel inspired. You're ready to attend TechBash and are pumped and excited for the event to arrive. You're so pumped, you'd like to share your excitement with the world. That's great! We have resources to help you out.
Most of these resources and many more items can be found on our Marketing repository at https://github.com/TechBash/Marketing/tree/master/2021/.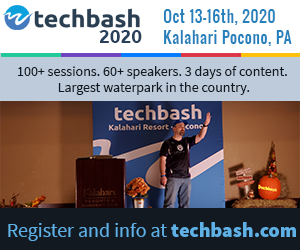 Grab Web Banners
Are you looking to display a banner on your website or blog? If so, feel free to grab and use any of the following images to solve this need. All images should link back directly to https://techbash.com.
For Speakers, User Groups, and other Events
Do you speak frequently at user groups or other events? Are you a Techbash speaker doing a talk in advance of the event and would like to share the details with your audience? If you do, feel free to use the slides below to help spread the word about Techbash.